Kanawut Traipipattanapong (คณาวุฒิ ไตรพิพัฒนพงษ์, born December 4, 1997 in Thailand), nicknamed Gulf (กลัฟ), is a Thai model and actor. He is well known for his role as "Type" in TharnType: The Series.
Early Life
Traipipattanapong went to an all-boys high school in Bangkok called Suankularb Wittyalai. He later attended King Mongkut's University of Technology Thonburi, majoring in Industrial Education and Technology.
Career
In late 2018, it was announced that Kanawut would star as "Type" - the main protagonist of GMM One's and LINE TV's TharnType: The Series. The series immediately gained popularity within Thailand as well as internationally. The series would soar to the number one spot of worldwide for ep 11 and 12 Twitter trends.
Such popularity in the series and the main casted couple, has resulted fans in referring to both actors as "MewGulf - a combined fandom name of their Thai nicknames, Mew and Gulf, respectively.
Kanawut and fellow actor, Suppasit Jongcheveevat won "Best Kiss Scene" at the LINE TV Awards 2020. Suppasit and Kanawut have also appeared in the February issue of Harper's Bazaar Thailand, the first BL couple to do so in the history of the magazine. Due to the immense outpour of fans trying to read the article, Harper's Bazaar Thailand's website crashed.
With the immense positive response to TharnType, a second season was announced and auditions would start in early 2020, with production in mid-2020. Due to the global pandemic of novel COVID-19, production was postponed to ensure the safety of the actors and crew.
Both Suppasit and Kanawut made a guest appearance in the 2020 series "Why R U?" as Tharn and Type, respectively.
On May 18th, 2020, Kanawut was verified on Twitter.
With Kanawut's popularity growing, his fan club along with Suppasit's fans, have bought rights to name stars after them.
Filmography
Television series
Specials
Trivia
His hobbies include playing games and football.
His favorite football team is Chelsea and his favorite football player is Didier Drogba.
He likes food that is made with basil.
He is allergic to prawns.
His favorite colors are black and white.
He enjoys rap music.
Gulf isn't very confident about his ears because they're small.

He is, however, proud of his height.

If Gulf wasn't an actor he would be a football player.
Gulf doesn't like self-centered people.
He isn't ticklish.
He was originally nicknamed Gup by his father but when he realized Gup had no meaning, he changed it to Gulf.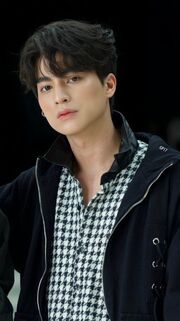 ==Gallery==
Italic